About GarryMichael
About > Life At GarryMichael > Diversity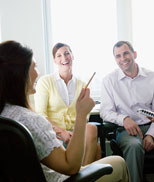 At GarryMichael, we're building the future of public accounting. And that begins with you. With how we treat you. How you're included in the decisions that affect your work. From the complete and open access you'll have to partners and colleagues to how your mentors support and value you, it's an environment unlike any other.
THE MORE PERSPECTIVES, THE BETTER
Our environment fosters networking, development, and mentoring because we know that's how we'll all achieve our goals. We continue to grow as a diverse firm—one that embraces a variety of input and leadership styles. Everyone deserves the same opportunity to reach his or her full potential.
In the News
Most Popular
Leadership
Life At Garry Michael
Careers